U.S. TANK DESTROYER M10
MID PRODUCTION
Tamiya - Nr. 35350 - 1:35
As revealed at the Shizuoka Hobby Show! this little fella will hit the shelves very soon.
Stock Number and Description Tamiya Kit No. 35350 - Tamiya Kit No. 35350 - U.S. Tank Destroyer M10 Mid Production
Scale: 1/35
Media and Contents: 324 parts in light grey plastic (test shot only); ten parts in clear; two lengths of polypropylene tracks; 4 small and 4 large polythene caps; length of string; markings for two vehicles.
Price will be around : 3600¥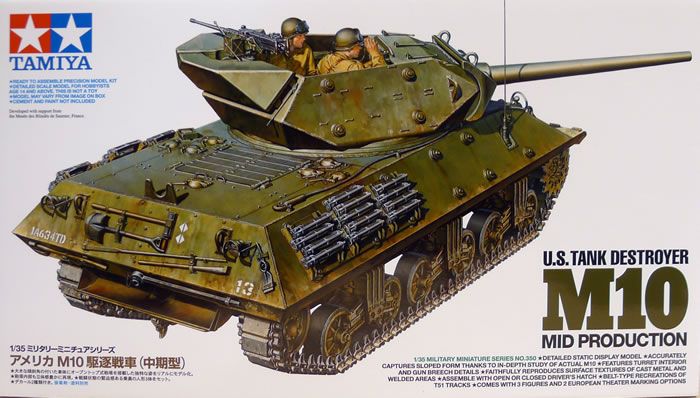 you can find a review at:
*Repost from http://www.borinqueneers.org/*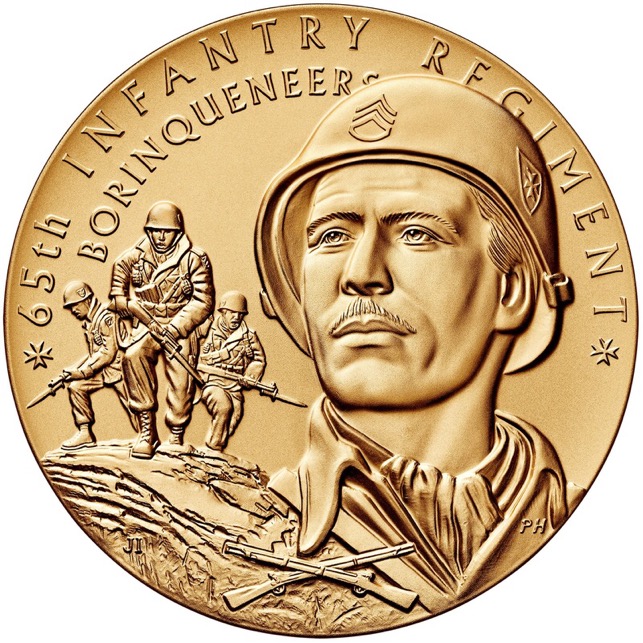 (Pulsa en la medalla de oro para ir al video)

The Borinqueneers receive U.S. Congressional Gold Medal on April 13! WASHINGTON ??? On Wednesday, April 13, leaders of the U.S. House and Senate presented a Congressional Gold Medal in honor of the 65th Infantry Regiment, known as the Borinqueneers, for its pioneering military service, devotion to duty, and many acts of valor in the face of adversity. The 65th Infantry is a Puerto Rican regiment of the United States Army that bravely fought and served the U.S. during times of combat, including World War I, World War II, and the Korean War. For its extraordinary service to the nation in the Korean War, the Regiment earned nine Distinguished Service Crosses, approximately 250 Silver Stars, over 600 Bronze Stars, and more than 2,700 Purple Hearts. Congressman Pedro Pierluisi (D-PR) and Congressman Bill Posey (R-FL) of Florida, who worked together to draft and secure House passage of the bill to award the Congressional Gold Medal to the Regiment, spoke at the event. So, too, did Senator Richard Blumenthal (D-CT), who led the parallel effort in the U.S. Senate. In addition, House Speaker Paul Ryan (R-WI), Senate Majority Leader Mitch McConnell (R-KY), Senate Democratic Leader Harry Reid (D-NV), and House Democratic Leader Nancy Pelosi (D-CA) took part in the bipartisan, bicameral ceremony. The Congressional Gold Medal is the highest civilian honor the United States Congress can bestow. In accordance with Public Law No: 113-120, a single gold medal has been struck to honor the 65th Infantry Regiment, the Borinqueneers for its valor, determination, and bravery displayed during the Korean War. The ceremony took place on April 13, 2016, at 3:00 PM ET in Emancipation Hall at the U.S. Capitol, and is available for viewing on CSPAN. Prior to the ceremony, the Borinqueneers Congressional Gold Medal Ceremony National Committee held wreath presentations the Tomb of the Unknown, the World War II Memorial, and the Korean War Memorial. A National Awards Reception followed the unveiling ceremony.
Tamiya is launching a M24- Chafee, in fact is a rebox for the Italeri 1986 overall with all the new parts from the last 2014 version ( new tracks) Also include the metal barrel and for the price of $26.00 its a good deal.
Here is what Tamiya posted on the site:
Includes a highly realistic aluminum gun barrel.
Features assembly-type WWII tracks with single-piece straight sections.
Turret has newly added WWII antenna base parts and weld lines.
Accessories include M2, ammunition boxes, bags, folded sheets and jerry cans.
Comes with a commander torso figure, plus marking options for the vehicles on the Italian front and in Germany.
Tamiya launched a new set of figures for WWII fans, this set of highly realistic figures and accessories recreates Luftwaffe personnel assigned to the Africa Corps. The 8 figures are in a variety of authentic poses, including an officer barking out orders, non-commissioned officer in shorts, soldiers with shells and a rangefinder,and some boxes too.Includes parts to recreate explosive and armor piercing shells, as well as empty rounds, plus shell rack, rangefinder, shovel, hammer and so on.
About Luftwaffe units in the Africa Corps
Rommel's Africa Corps included a number of Luftwaffe anti-aircraft units, equipped with 88mm guns used not only in ground-to-air situations but also in engagements with enemy armor such as Matildas and M3 Grants. The units' teamwork was a constant boon for the Africa Corps, whether the enemy was airborne or a land vehicle.
About the Uniform
Both Army and Luftwaffe troops in North Africa received tropical uniform. The Luftwaffe version had a large pocket over the left knee, and other small differences. The sand-colored cloth was lighter than the Army equivalent, but faded rapidly in the sweltering heat, leading to many different shades.
Hobbylink Japan already have it in $9.10

Repost from Armorama.com, Writer : TODD MICHALAK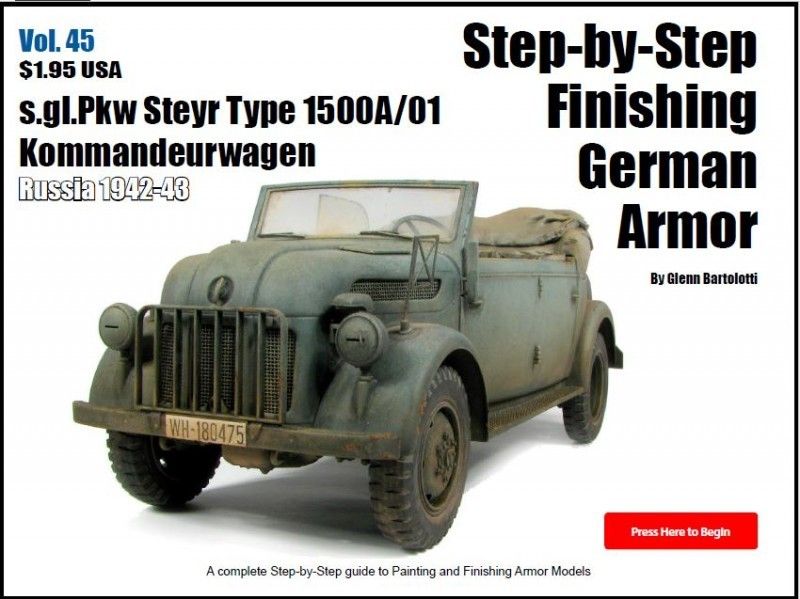 Armor Models by Glenn Bartolotti releases another of his Step-by-Step Finishing German Armor publications. The latest addition, Volume 45 s.gl.Pkw Steyr Type 150A/01 Kommandeurwagen - Russia 1942-43, is available now!
As with all of Glenn's Step-by-Step Finishing German Armor guides, this new publication retails for $1.95 and is available for download on the Armor Models website. This is a fourteen page step by step guide to painting and weathering of Tamiya's 1/35 scale s.gl.Pkw Steyr Type 150A/01 Kommandeurwagen. Contained inside this SBS is a copy of Terry Ashley's review of the kit.
One of the newer additions to the Armor Models Step-byStep guides is the interactive qualities of the publication. Links to not only Terry's review of the Steyr but to the various products Glenn uses throughout the guide are embedded for easy referencing.
Glenn Bartolotti latest publication looks to be more of what we have come to expect from this seasoned modeller; quick rundown of the building process, detailed painting guide and a step by step explanation to his weathering process!
Stop by Armor Models and check out Volume 45 s.gl.Pkw Steyr Type 150A/01 Kommandeurwagen - Russia 1942-43 and many of the other fine selections he has to offer.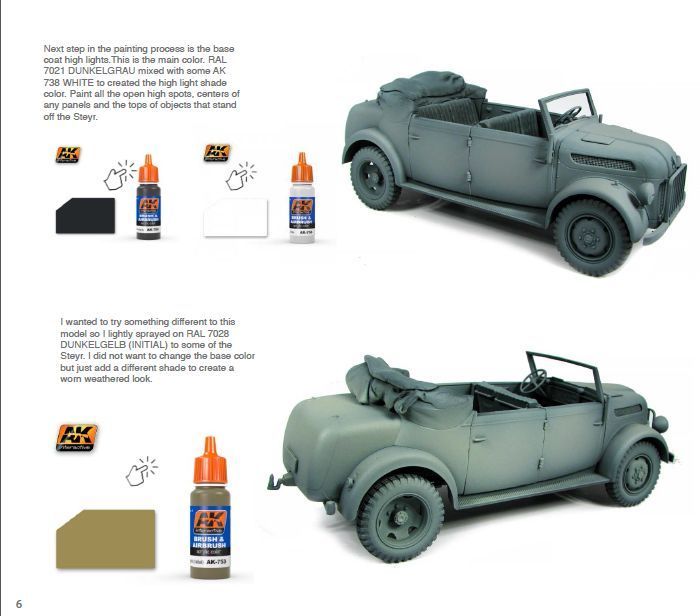 Where to buy?
http://sbsarmormodels.yolasite.com/

A Zvevda rebox from 2012 (as confirmed in scalemates.com) The kit is a great one, with a new set of decals, this model can be able to achieve a beautiful kit out of box, and a great one for starter modelers of WWI, WWII or battleships themes. 
Here some history:
Completed in 1911 the Gangut was the first battleship in the Imperial Russian Navy. A total of four Gangut class battleships had their keel laid and were completed in Saint Petersburg. The armour protection extended over most of the hull and also the relatively small superstructure. The two central turrets of the main armament could only be deployed laterally. The Gangut class battleships were intended for use on the Baltic Seas and were therefore specially fitted with an ice-breaker bow. The expensive battleships were rarely used during World War I in order not to jeopardize them. They came into the hands of the revolutionaries after the outbreak of the Russian Revolution. All the ships were renamed after the end of the Russian Civil War. The Gangut was renamed Oktjabrskaja Revoljuzija - October Revolution.
- Detailed hull with fittings
- Can optionally be built as a waterline model
- Structured main deck
- Detailed deck superstructures
- 12 x 305 mm L/52 Naval guns
- 16 x 120 mm L/50 Naval Guns
- Detailed Bridge
- Lifeboats
- Two masts
- Authentic drive and ruder units
- Display stand
- Authentic decal set for following version:
- Battleship Gangut, Russian Imperial Navy, 1912
Tamiya brought us this month another 1:48 that will become a favorite for sure, the British Armored Scout car "Dingo" Mk II
Scout Out the Latest British Addition
This British armored scout car boasted enviable maneuverability and armor up to 30mm thick on its compact hull. Often referred to by its nickname of "Dingo", delivery of the Mk.I variant began in 1939; the later Mk.II featured various modifications, including an overhaul of the steering system. All told, more than 6,600 "Dingoes" were manufactured until 1945, serving in a range of locations in both reconnaissance and command car roles.
About the Model
This is a 1/48 scale plastic model assembly kit of the "Dingo" Mk.II. ★Length: 69mm, width: 37mm. ★The lightweight and compact form with distinctive flat panels is authentically recreated. ★The model can be assembled with folding roof in open or closed position. ★Suspension is realistically depicted with intuitive parts makeup. ★Commander and driver figure are included in realistic action pose. ★Contains one set of markings to recreate a vehicle in combat in Europe.
Tamiya announced the reissue of the Jagdpanzer IV/70 Lang, this time with new sprues as a late version, check it out!
The Jagdpanzer IV /70(V) Lang, complete with powerful L/70 7.5cm main gun, makes an appearance in 1/35 scale! ★This model unerringly captures the form of the tank destroyer, thanks to extensive study of a surviving vehicle. ★Faithfully recreates steel-rimmed front 2 wheels. ★Depicts final production lightweight tracks in belt form. ★2 torso figures and 3 marking options are included.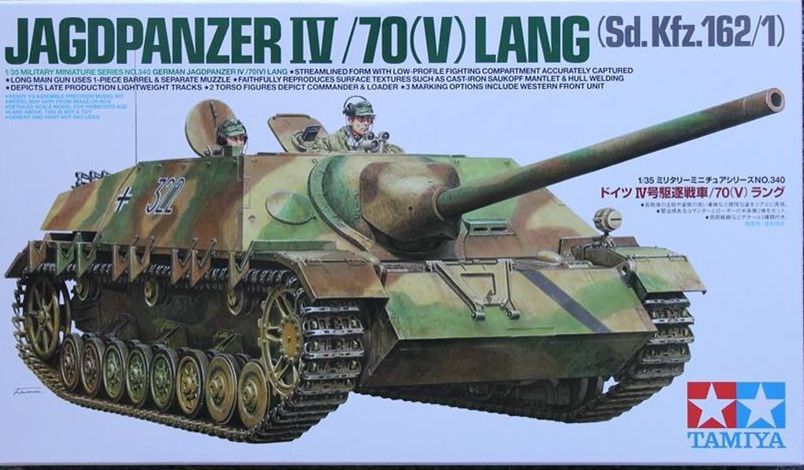 Take a look to the new sprues, and the nice texture on it.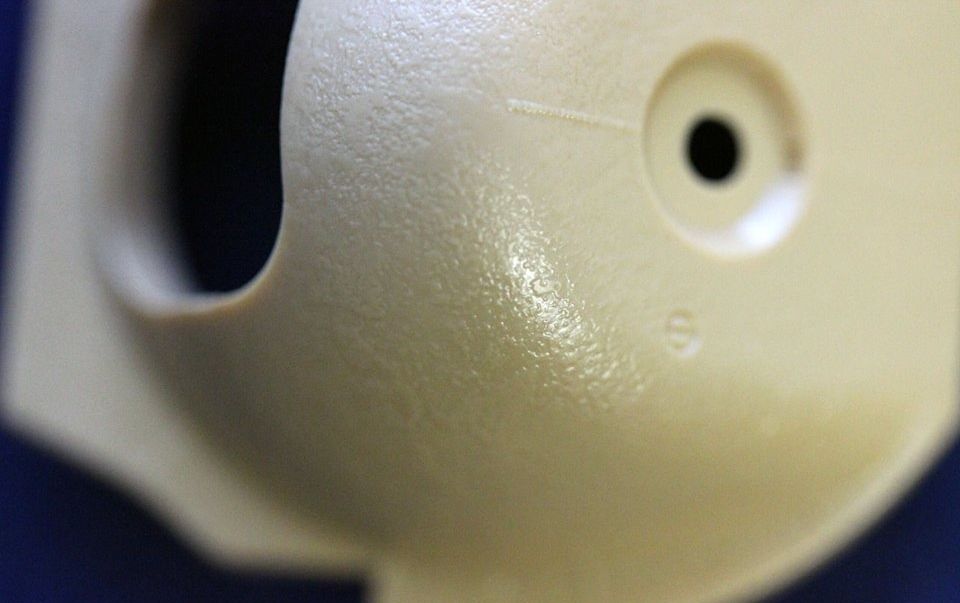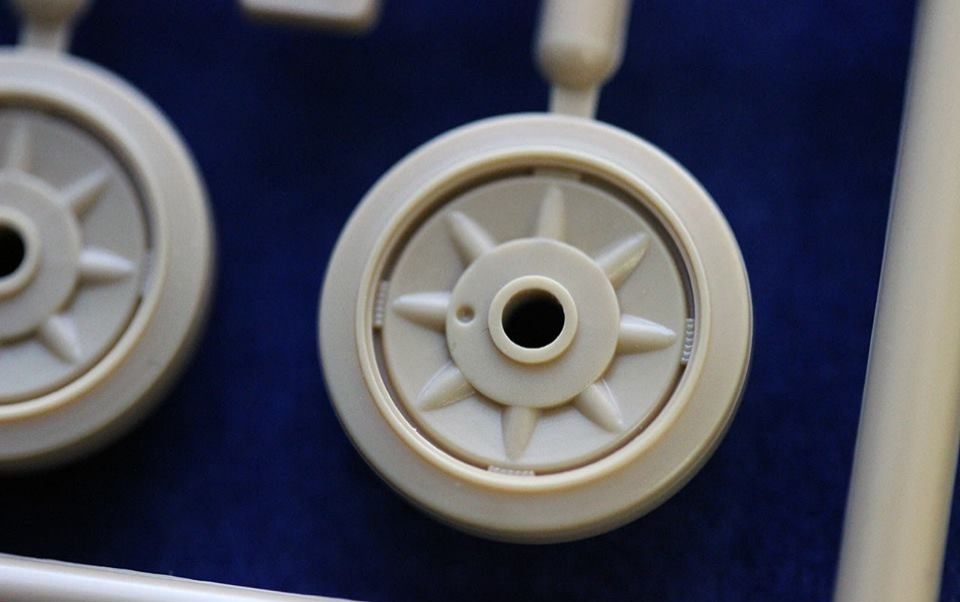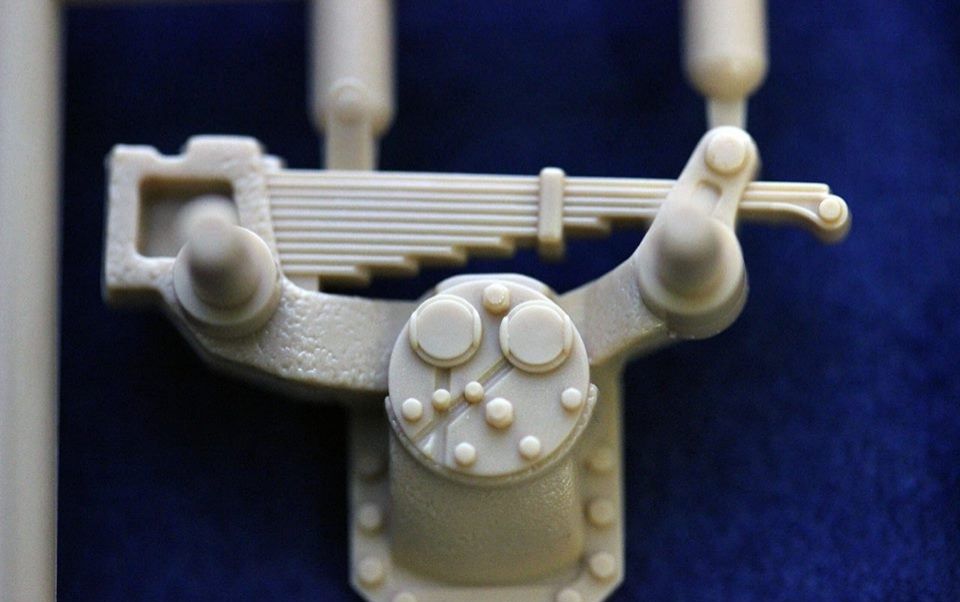 You can also have a choice to buy the  the metal barrel with the gun breach sprue, item # 12660
Add even more detail to your 1/35 scale Jagdpanzer IV /70(V) Lang model with this detail-up parts set! ★Includes a highly realistic aluminum gun barrel piece, plus resin parts to recreate breech, handles, equilibrators and more.
★Equilibrators are fitted with built-in poly caps to facilitate realistic movement.
Tamiya 1/32 Scale Vought F4U-1A Corsair Kit
This is a highly detailed model recreating the F4U-1A variant of the highly popular Corsair model. Newly-designed parts are included in the kit to accurately capture the modifications which distinguish it from the original F4U-1. The F4U-1A drew on the experience of Navy and US Marine Corps pilots' experience with the original aircraft, making modifications to further improve the performance of this legendary bird.
This 1/32nd scale model captures the upgraded form of the F4U-1A variant with precision, including the semi-bubble canopy and raised pilot seat. This required newly-designed cockpit interior parts. Details such as new instrumentation panel and console designs are also depicted.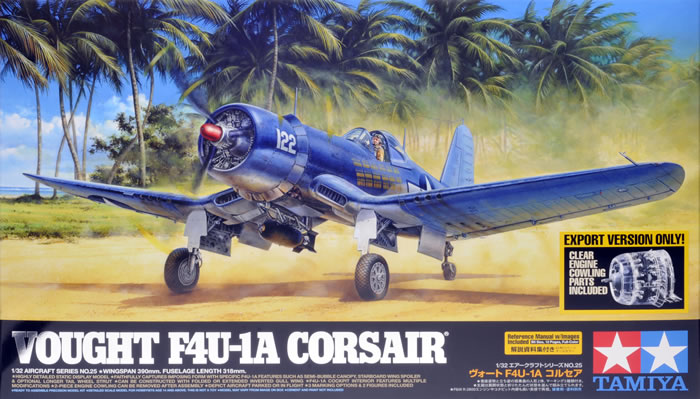 More than 450 parts in grey plastic (plus 11 for the two figures); 49 parts in clear (includes 22 limited edition clear cowl parts); four black plastic pieces; two frets of photo-etched metal; one self-adhesive metallic name plate; a self-adhesive masking sheet; two vinyl tyres; two metal rods; one screw; one nut; one small screwdriver; one poly cap; two decal sheets with markings for three schemes.
you can see a review from the people of Hyperscale at:
http://hyperscale.com/2014/reviews/kits/tamiya60325reviewbg_1.htm
where to Buy?
LuckyModel $109
Internethobbies $169.00
HobbylinkJapan $128
ACADEMY 1/35 SCALE U.S. ARMY M10 GMC KIT
The "TD" or tank destroyer as it was called by U.S. GIs was designed to act in the anti-tank role during WWII. The M10 has a 3" main gun firing several different varieties of anti-armor ammunition capable of destroying most of the German tanks of the day.
Academy will be releasing their "70th Anniversary Normandy Invasion 1944" M10 Gun Motor Carriage in November. The model is a re-tooled assembly kit loaded with extra details and including high-quality decals from Cartograf.