July's new model from Tamiya is the 1/48 Japan Ground Self Defense Force Type 10 Tank!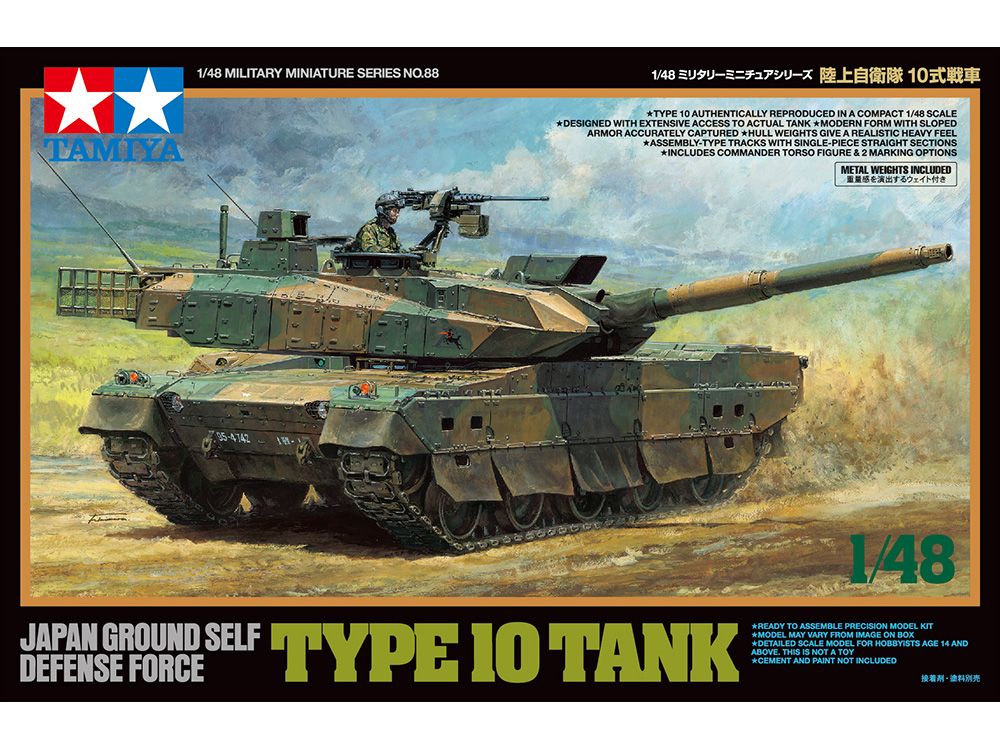 (extract from tamiya website)
Up-to-date and in 1/48!
Officially announced in 2010, the Type 10 is the fourth generation main battle tank serving the Japan Ground Self Defense Force (JGSDF). It is equipped with a domestically-developed smoothbore 120mm main gun and automatic targeting system that allows tracking of targets while the highly mobile Type 10 is on the move. Modular armor on the turret and hull not only provides top level protection, it can also be removed to allow swift transportation across the Japanese archipelago on trailers and the like. Delivery to units commenced in 2012 and the Type 10 is envisaged to replace the long-serving Type 74.
About the Model
This is a 1/48 scale plastic model assembly kit of the JGSDF Type 10 tank.
★Length: 199mm, width: 72mm. ★This compact masterpiece was designed with extensive access to the actual tank, and captures the sloped form of the Type 10 with an intuitive parts breakdown. ★The model includes depictions of modifications seen in Type 10s from the C4 lot, which were delivered to units from the second half of 2014 onwards. ★Hull interior weights are included to add an authentically heavy feel. ★Commander torso figure adds further realism.
★Decals included to recreate 1st or 8th Tank Battalion markings.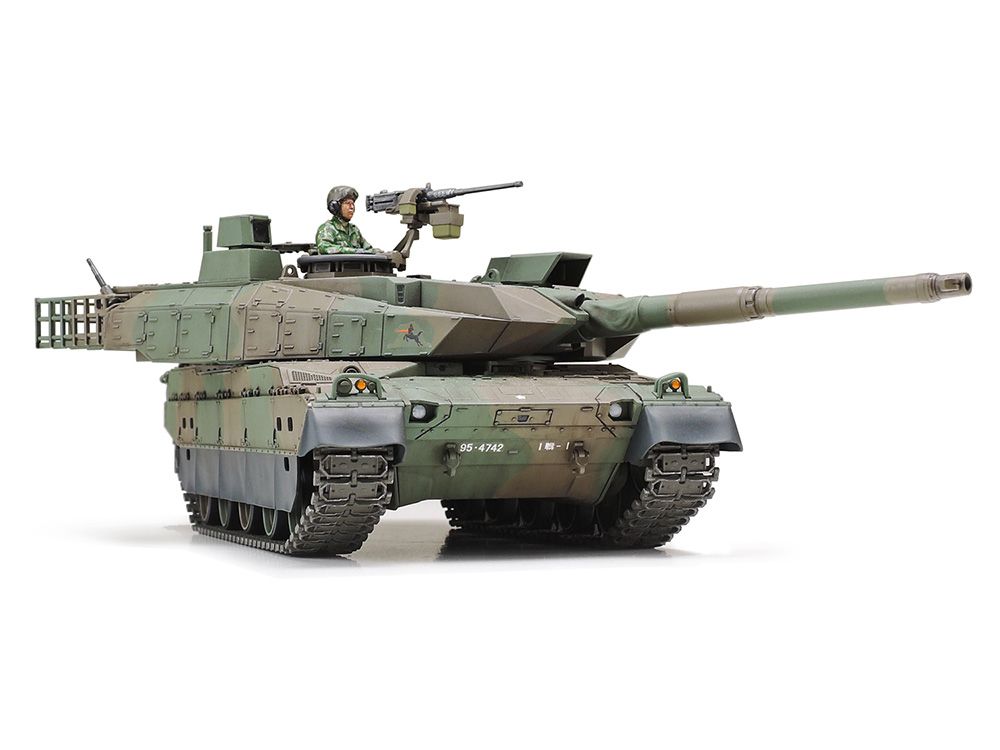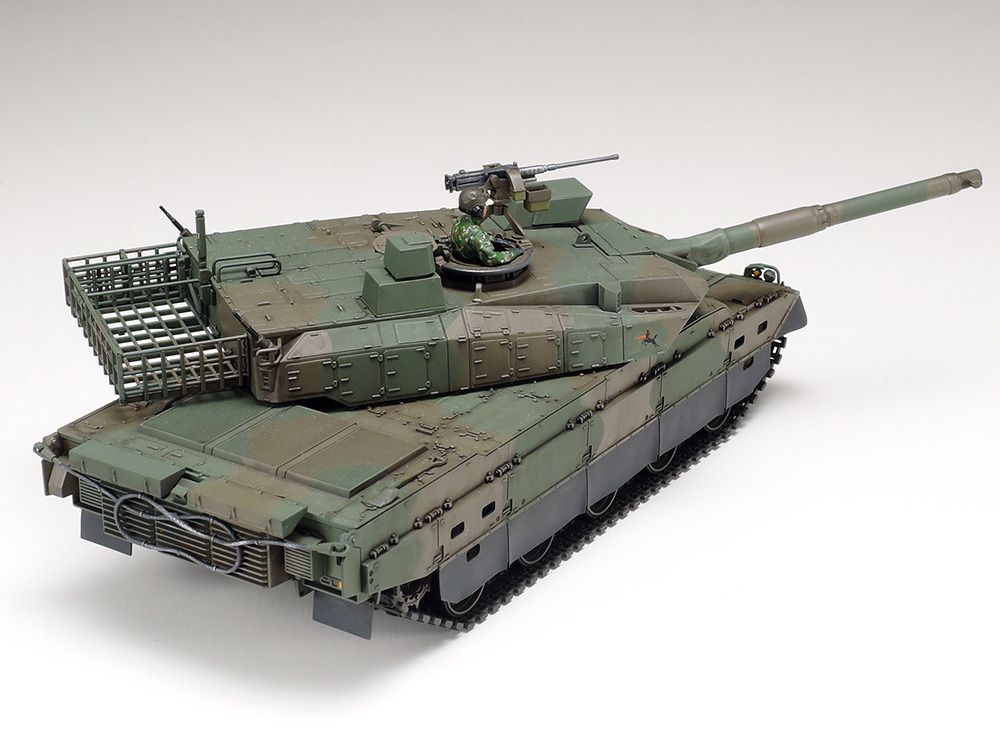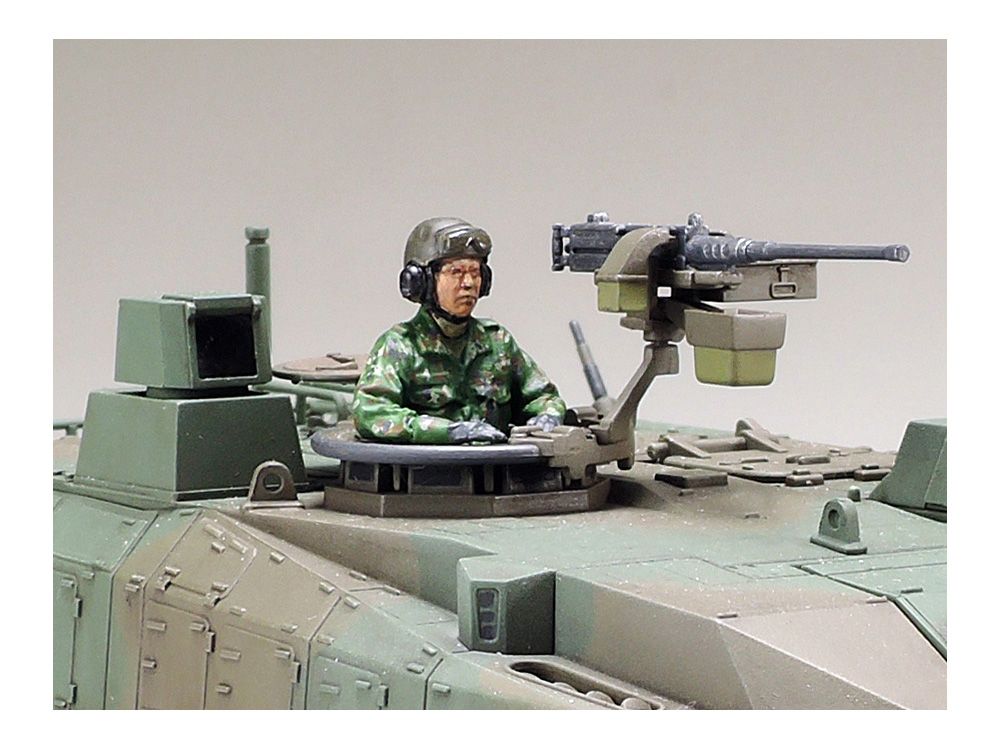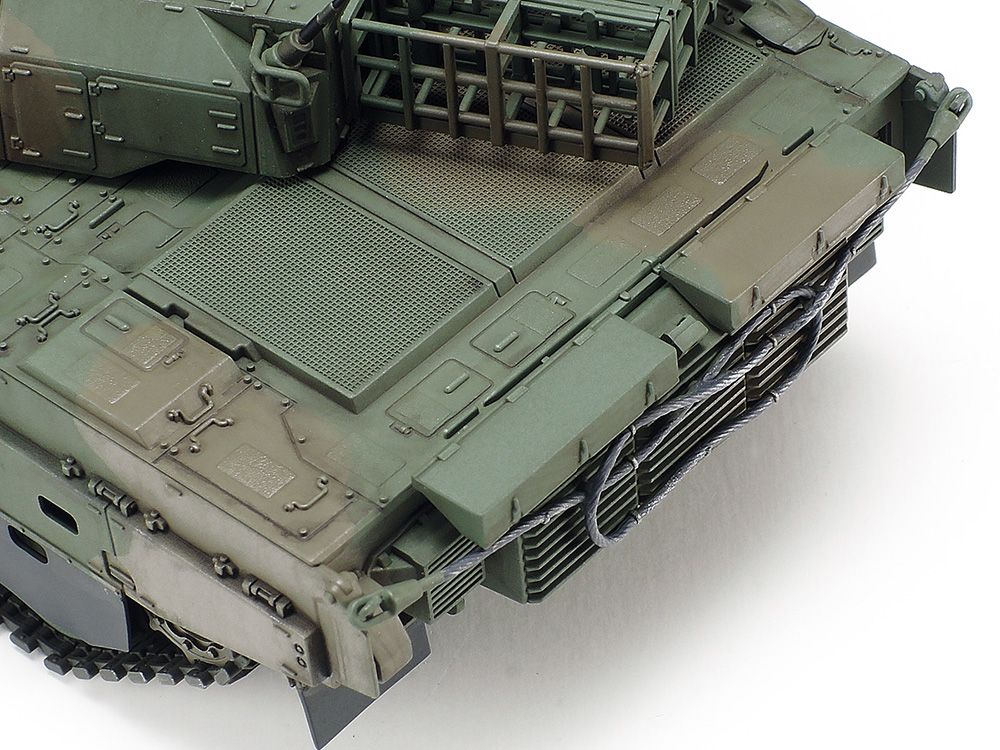 New 2016 M1 Abrams from Academy, is new tooling full! they make a whole new tank with everything on the box, you can built it out of box!
Among the features and options you will find inside the box:

All new-tooled parts
New 'long' turret with anti-slip surfaces molded into the top surfaces as well as toolbox tops
New lower hull with no holes for motorization
New upper hull with anti-slip surfaces molded into the top surfaces (appears to be in the correct areas)
Options to build 'vanilla' SEP v2 or TUSK I or TUSK II versions
Road wheel hubs are hollow with clear caps
Choice of solid drive sprockets or with lightening holes
Optional boat hull ventral armor plate
Optional upward exhaust deflector
Choice of rear tail lights/housings
Choice of standard, TUSK I or TUSK II side skirts
Positionable doors for gunner's thermal sight
Optional coaxial M2 machine gun over main gun
Optional commander and gunner gun shields over hatches
VCU in turret basket
Optional TUSK armor for turret sides
Spare track and Jerry can stowage on rear racks
Optional thermal ID panels
Optional CROWS II system
Optional Duke CREW system
Optional Blue Force Tracker antenna/module
Optional stowed tow bars
Options to model the kit are:

M1A2 SEP v2, 2nd ID, US Army, South Korea, 2013 (over 40 options)
M1A2 TUSK, 3rd Cav Regt, US Army, Iraq, 2008
M1A2 TUSK, 3rd Squadron/G Troop, US Army, Iraq, 2013
M1A2 TUSK II, 1st Bn/22nd Inf Regt/1st Bde/4th ID, US Army, Iraq, 2008
U.S. TANK DESTROYER M10
MID PRODUCTION
Tamiya - Nr. 35350 - 1:35
As revealed at the Shizuoka Hobby Show! this little fella will hit the shelves very soon.
Stock Number and Description Tamiya Kit No. 35350 - Tamiya Kit No. 35350 - U.S. Tank Destroyer M10 Mid Production
Scale: 1/35
Media and Contents: 324 parts in light grey plastic (test shot only); ten parts in clear; two lengths of polypropylene tracks; 4 small and 4 large polythene caps; length of string; markings for two vehicles.
Price will be around : 3600¥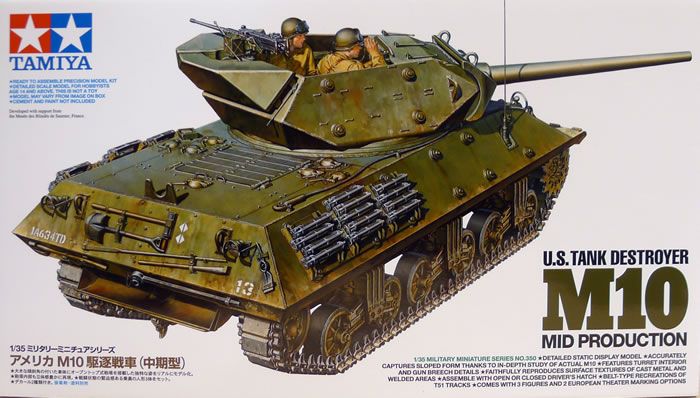 you can find a review at:
Hi Everyone!
I just finished the FT-17 Renault Japanese Trainer tank for the Ammo - TAKOM-AMMO contest. you can see the step by step here:
http://www.ipmsborinqueneers.com/apps/forums/topics/show/13337449-takom-1-16-ft-17-renault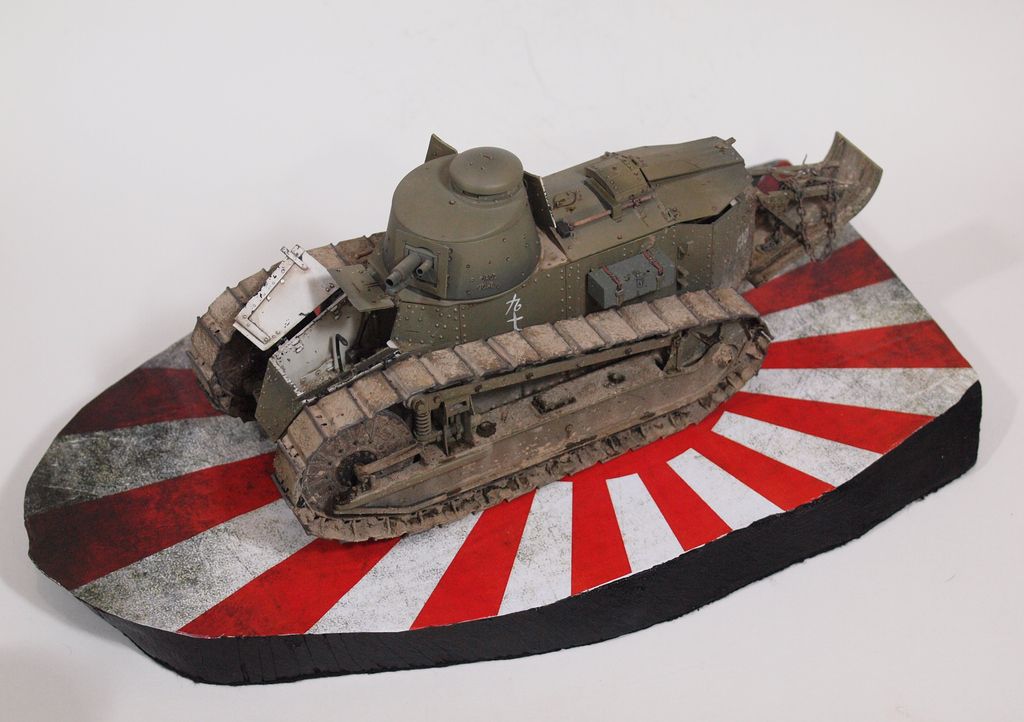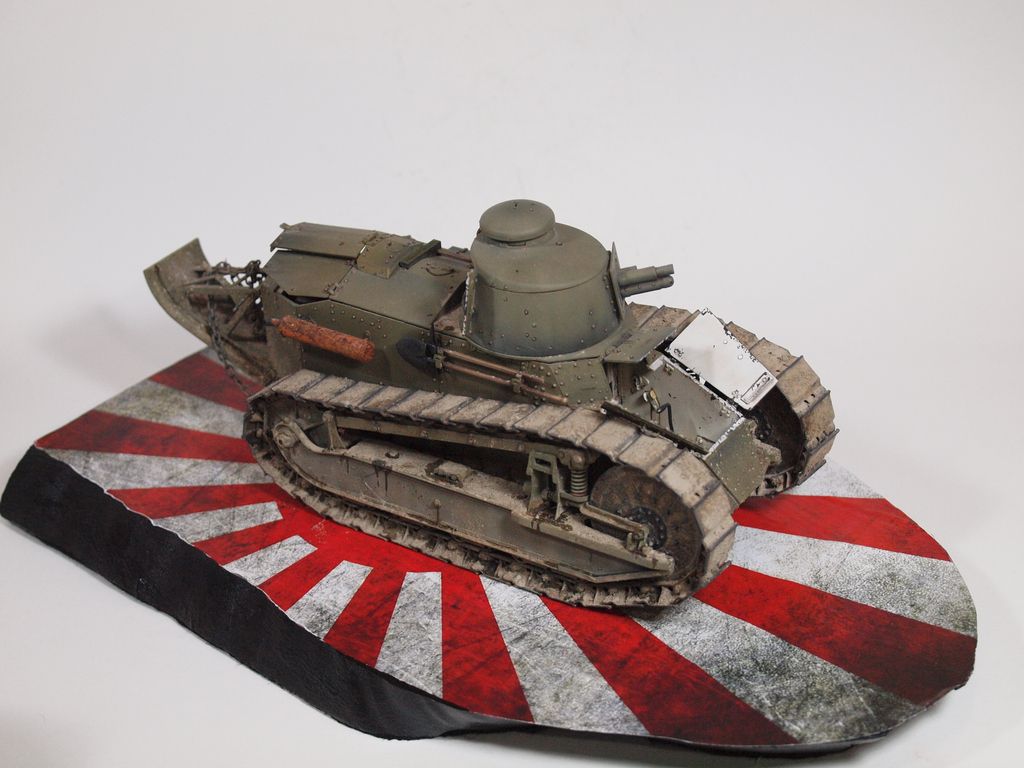 (Extracted from the Tamiya website)
http://www.tamiya.com/english/products/37022/index.htm

1/35 German Bundeswehr Self-Propelled Howitzer M109A3G
This 1/35 scale plastic model assembly kit recreates the German Bundeswehr's M109A3G. Italeri's original M109 kit is joined by A3G-specific parts, such as the long-caliber gun, Bundeswehr-type tracks, smoke dischargers and hull rear storage baskets. ★Turret panoramic sight and drive sprocket parts have been updated for an even more impressive finish. ★The kit includes 2 figures and 2 marking options. ★Belt-type tracks can be painted and cemented.
★Vehicle parts are a product of Italeri.
Tamiya is launching a M24- Chafee, in fact is a rebox for the Italeri 1986 overall with all the new parts from the last 2014 version ( new tracks) Also include the metal barrel and for the price of $26.00 its a good deal.
Here is what Tamiya posted on the site:
Includes a highly realistic aluminum gun barrel.
Features assembly-type WWII tracks with single-piece straight sections.
Turret has newly added WWII antenna base parts and weld lines.
Accessories include M2, ammunition boxes, bags, folded sheets and jerry cans.
Comes with a commander torso figure, plus marking options for the vehicles on the Italian front and in Germany.
Tamiya brought us this month another 1:48 that will become a favorite for sure, the British Armored Scout car "Dingo" Mk II
Scout Out the Latest British Addition
This British armored scout car boasted enviable maneuverability and armor up to 30mm thick on its compact hull. Often referred to by its nickname of "Dingo", delivery of the Mk.I variant began in 1939; the later Mk.II featured various modifications, including an overhaul of the steering system. All told, more than 6,600 "Dingoes" were manufactured until 1945, serving in a range of locations in both reconnaissance and command car roles.
About the Model
This is a 1/48 scale plastic model assembly kit of the "Dingo" Mk.II. ★Length: 69mm, width: 37mm. ★The lightweight and compact form with distinctive flat panels is authentically recreated. ★The model can be assembled with folding roof in open or closed position. ★Suspension is realistically depicted with intuitive parts makeup. ★Commander and driver figure are included in realistic action pose. ★Contains one set of markings to recreate a vehicle in combat in Europe.
Tamiya announced the reissue of the Jagdpanzer IV/70 Lang, this time with new sprues as a late version, check it out!
The Jagdpanzer IV /70(V) Lang, complete with powerful L/70 7.5cm main gun, makes an appearance in 1/35 scale! ★This model unerringly captures the form of the tank destroyer, thanks to extensive study of a surviving vehicle. ★Faithfully recreates steel-rimmed front 2 wheels. ★Depicts final production lightweight tracks in belt form. ★2 torso figures and 3 marking options are included.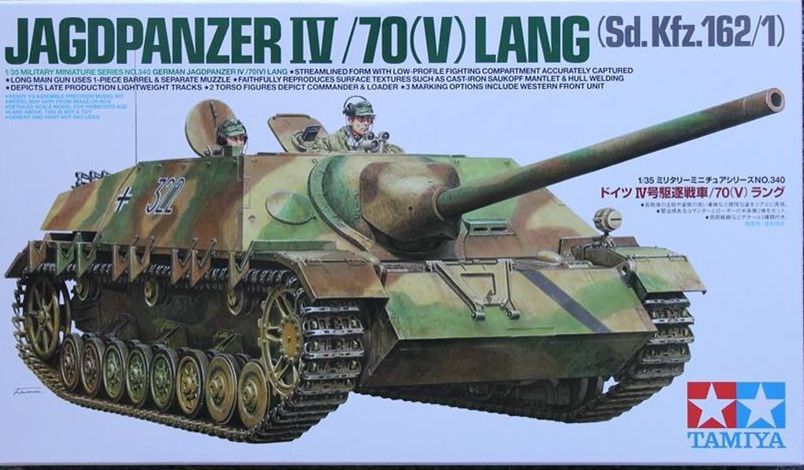 Take a look to the new sprues, and the nice texture on it.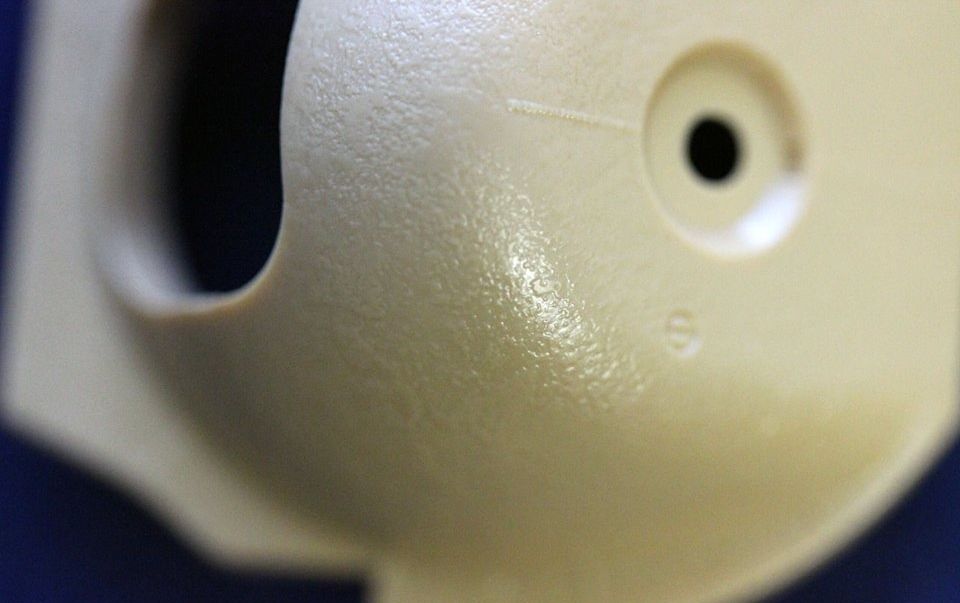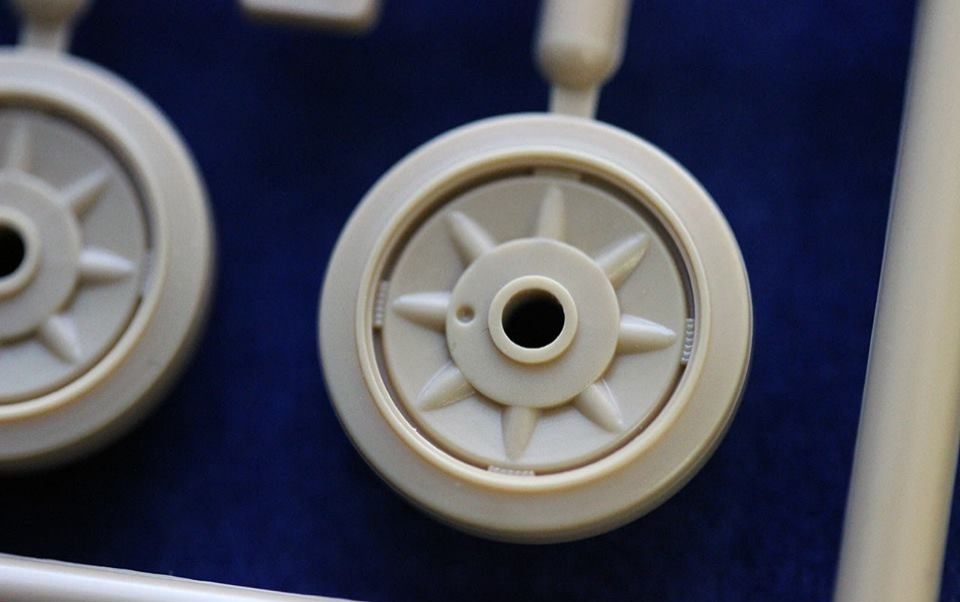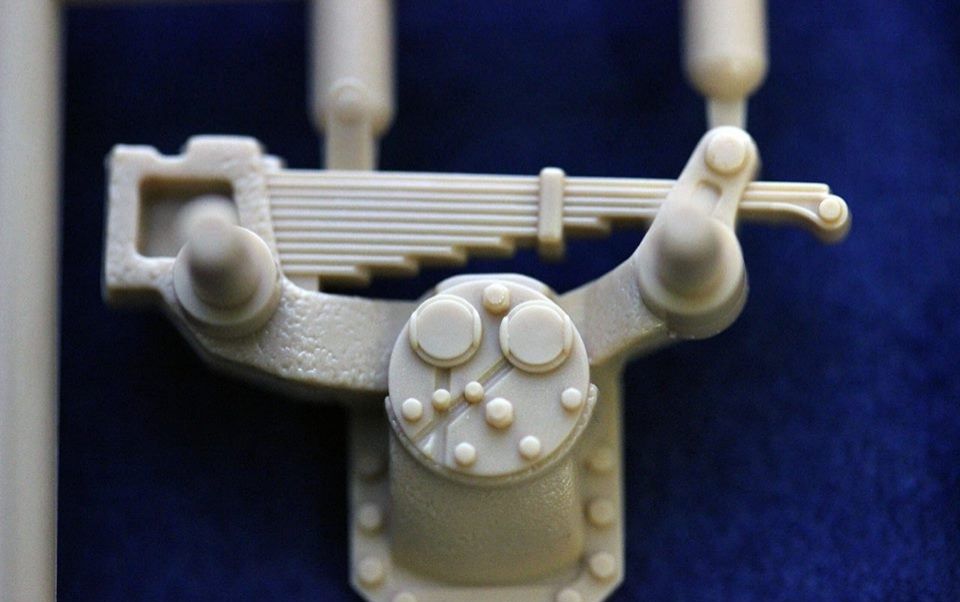 You can also have a choice to buy the  the metal barrel with the gun breach sprue, item # 12660
Add even more detail to your 1/35 scale Jagdpanzer IV /70(V) Lang model with this detail-up parts set! ★Includes a highly realistic aluminum gun barrel piece, plus resin parts to recreate breech, handles, equilibrators and more.
★Equilibrators are fitted with built-in poly caps to facilitate realistic movement.
ACADEMY 1/35 SCALE U.S. ARMY M10 GMC KIT
The "TD" or tank destroyer as it was called by U.S. GIs was designed to act in the anti-tank role during WWII. The M10 has a 3" main gun firing several different varieties of anti-armor ammunition capable of destroying most of the German tanks of the day.
Academy will be releasing their "70th Anniversary Normandy Invasion 1944" M10 Gun Motor Carriage in November. The model is a re-tooled assembly kit loaded with extra details and including high-quality decals from Cartograf.
Coming soon from MINIART from Ukraine Panzer 3 version Ausf B! finally the gap between the panzers 3 its complete. This is one of the finest panzer 3 I have ever see, look all the details, even tracks are fully movable!
This baby is available for preorder at Hobby Link Japan for this September so hurry and place your order before its gone!